You are here
size matters
Ulrich Becker
opening
Thursday, 17.02.2011 - 7:00 pm
opening hours
tuesday- friday
11:00 - 19:00
saturday, sunday
12:00 - 18:00
location
basis e.V. Gutleutstraße 8-12 60329 Frankfurt am Main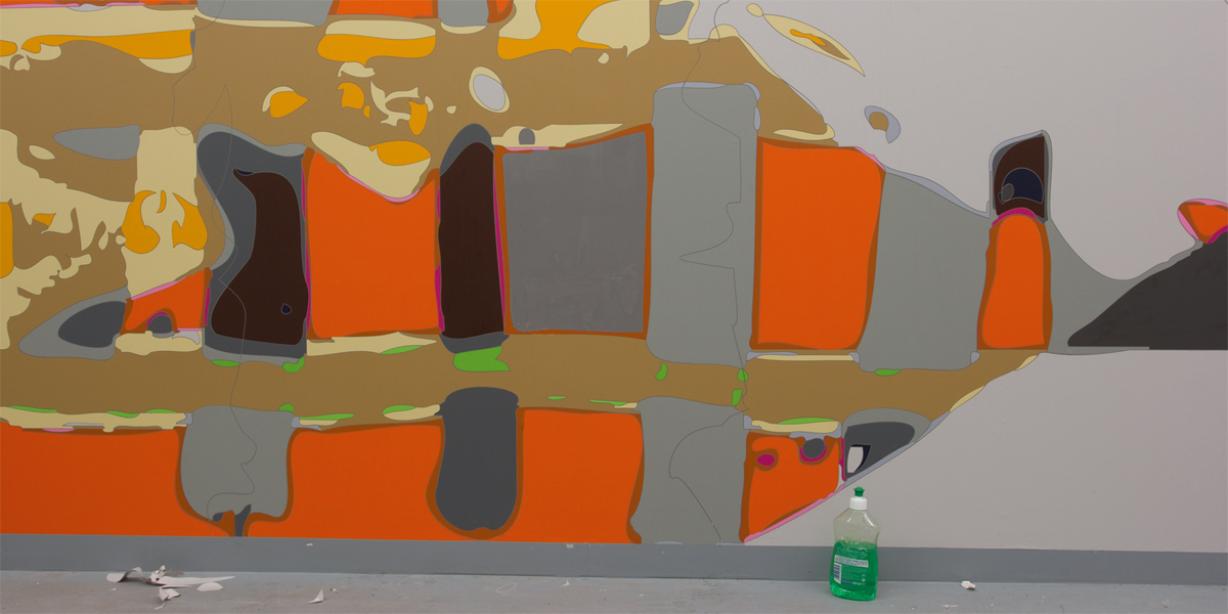 We look forward to presenting the exhibition sizematters with Ulrich Becker from February 18 to March 20, 2011; in the framework of the show he will be putting in place a dedicated wall installation created especially for the basis space.
In his large-format works, Ulrich Becker examines possibilities and constraints of non-figurative painting. His artistic investigations focus on the transitions between various creative pictorial elements and his works are thus characterized by an exciting interplay of form and color, structures, surfaces and lines. Often also conceived as wall or floor pieces, they also address the relationship between the picture and the space which surrounds it. In the process-like genesis of the pieces, new ideas for images arise from selected shapes in which predefined fixed forms combine with dynamic, gestural elements to constitute a multi-layered and multi-perspective mesh, whereby the layer and angles are intrinsically repeatedly fractured.
With sizematters (2011) Becker has made a site-specific wall piece on a massive scale – 30 meters (l) by 4 meters (h) – such that it bisects the exhibition space and creates various new spatial situations. The picture is based on a long developmental process in the course of which Becker conceptually explored onscreen the motif taken from a painted gestural composition. For some years now he has resorted to computer-cut PVC foil to realize his works; he applies it to the wall like a puzzle, thus lending an innovative and independent form to his examination of issues related to abstract painting.
The overly large size of the picture means that the motif is difficult to fully grasp; it can viewed from different angles, leading to ever new encounters between observer and work. Precise details viewed up close thus flow together at a distance and disperse in the collage-like structure, which combines gestural elements with a conceptual formal language. At the same time, when viewed up close the spatial depth of the motif is elided, as the hermetic surface becomes more important. In this way Becker's work physically involves the viewer in a manner it is hard to avoid. The narrative element in the picture supports its fragmentary perception as a result of the spatial division, and points to a single unified theme. Although precisely constructed the image structure is in constant dissolution and the perspective breaks up at points. In addition to freely formed lines Becker also uses recontouring lines which not only function as a useful element but themselves become abstract designations. Becker's installation-like wall image is thus characterized by the contrast between rough, direct image creation and fine pictorial surface which almost looks like a designer surface with its homogenous two-dimensional materials and the silky soft visual qualities. Given the dynamic colors and forms – which are reminiscent of impulsive material or body-based painting, or even graffiti – and the very precise handcrafting, Becker's piece can be categorized as an exciting blend of gestural composition and ornament.
Ulrich Becker (born in Heidelberg in 1966) lives in Frankfurt/Main and works in a basis studio. He studied Art at the HBK Braunschweig and at Frankfurt's Städel School and graduated in 1993 from Per Kirkeby's master class. Becker has already participated in numerous exhibitions, among others at the exhibition space Gutleut 15 in 2009, Galerie Wildwechsel in 2008, Kunsthalle Mannheim and Galerie Perpetuel in 2007, and Alte Feuerwache Mannheim in 2006.
Supported by: