Public Guided Tours
basis offers regular, free public guided tours of current exhibitions. Together with a member of the basis staff you have the opportunity to learn more about different aspects and thematic contents of particular works on view and the subjects of exhibitions.
You will find current dates for tours here.
basis offers guided tours for groups, school classes, students, and special guided tours of select basis studios by arrangement.
Bookings can be made by e-mail at or by telephone under +49 (0)69 400 39 839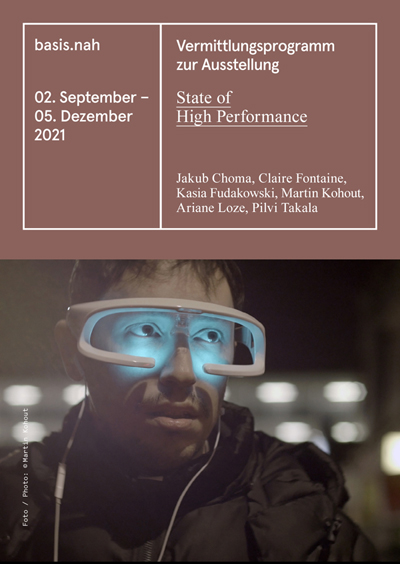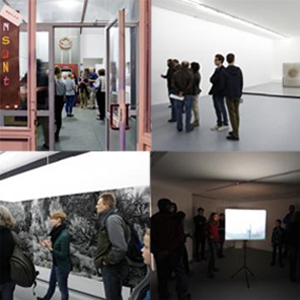 Education programme on "State of High Performance"
We are pleased to welcome you back to basis after the long period of closure! From September onwards, we will start again with our mediation programme basis.nah and would like to draw your attention to the formats for the upcoming exhibition:
From 2 September to 5 December 2021, basis presents the group exhibition "State of High Performance". In their video works, sculptures and multimedia installations, Jakub Choma, Claire Fontaine, Kasia Fudakowski, Martin Kohout, Ariane Loze and Pilvi Takala trace the social model of increased performance in an ironic, resistant or critical way. Especially now that the world has stood more silent than before for more than a year, the question arises - how do we go on?
We offer school and youth groups as well as adults a customisable educational programme in the exhibition.
In doing so, we follow the current Corona Protection Ordinance of the State of Hesse. In addition to public tours of the exhibition, there is also the possibility of an accompanied visit to the exhibition with our art educators. In a studio talk, artists from the basis also provide insights into their studios and their working methods. These formats can also be booked in combination.
You can find more information in our current flyer basis.nah.
Art Education
In addition to public guided tours of current exhibitions, basis also offers its close to the basis art education program for young children, adolescents, and schools.
basis nah
The art education program basis nah is made up of a range of offers for young children, adolescents, and school classes of different ages.
basis nah. workshop
Artist visit + theory (age 10–16)
The aim of this workshop series is to introduce art as a mediator of current social questions and to give participants a direct, hands-on impression of contemporary art. Studio visits are followed by the theoretical positioning of what has been seen, combining direct contact with artists and the discussion of art-theoretical issues with the producers of art works.
The workshop lasts 1½ hours and addresses the 10–16-year-old age group. The program begins with a short introduction to the work of the artist to be visited. The children are introduced to issues concerning the artistic subjects, background, and motives of the artist in question, leading to an open dialogue with the artist. In conclusion, what has been seen and talked about is brought into relation to art and media theory and linked up to everyday topics.