Open Call: AIR_Frankfurt 2018: Antwerp
Antwerp is the partner-city of AIR_Frankfurt 2018. Young artists who predominantly live and work in Frankfurt can apply from now on. The residency at AIR Antwerpen takes place in April, May and June 2018.
Application Deadline: October 1st, 2017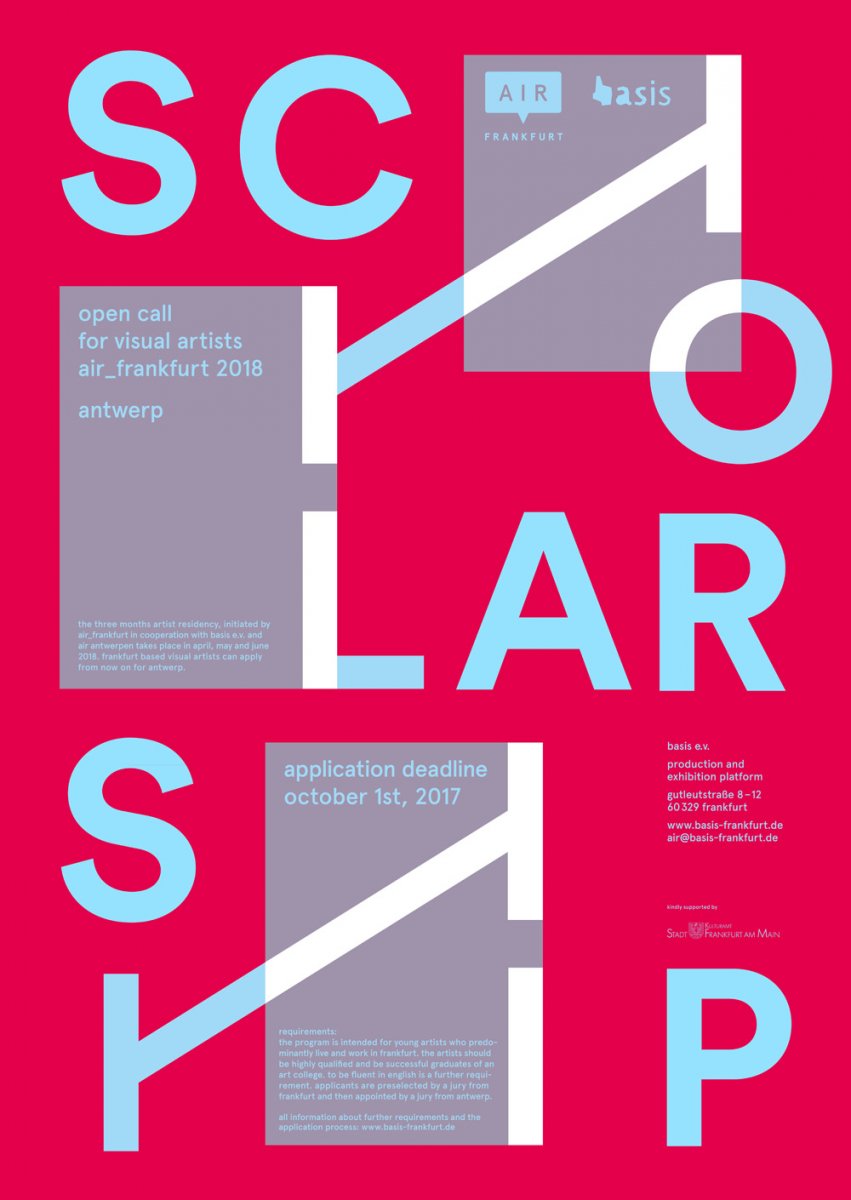 Who can apply?
AIR_Frankfurt is aimed exclusively at artists who live and work in Frankfurt.
The artists should be highly qualified and be successful graduates of an art college. To be fluent in English is a further requirement.
What is provided?
1000 € of monthly financial support by the city of Frankfurt
travel costs
accomodation in a studio-apartment
realization of a final project
integration into an artist network
curatorial support from the hosting organization
How to apply?
A complete application in english should consist of:
an application for a specific city
a letter of motivation with date and signature
artistic CV
filled out application form and a letter of motivation (Why did you select this specific Partner City/ insitution? What are you planning to work on while the three months? Are you planning a site-specific project?)
work samples
Applications need to be handed in by postal service in hard copy as well as digitally via e-mail. Your application is classed as complete only when all accompanying documentation has also arrived
Postal adress
basis e.V.
production and exhibition platform
Subject: AIR_Frankfurt
Gutleutstrasse 8-12
60329 Frankfurt am Main
The Application period for Antwerp ends October 1st, 2017
who is selecting?
The selection of resident artists follows the same rules in Frankfurt as it does in the guest countries: An independent jury selects up to five candidates and suggests these to an independent jury of the partner organization abroad. Of these candidates, they select a scholar who they believe is at a stage in their artistic development at which they will be likely to benefit artistically from a three month stay and who fits with the exchange program of the individual institutions the best.