You are here
basis Herbstprogramm
Thursday, 22.09.2011 - 7:00 pm

to

Saturday, 15.10.2011 - 9:00 pm
location
basis e.V. Gutleutstraße 8-12 60329 Frankfurt am Main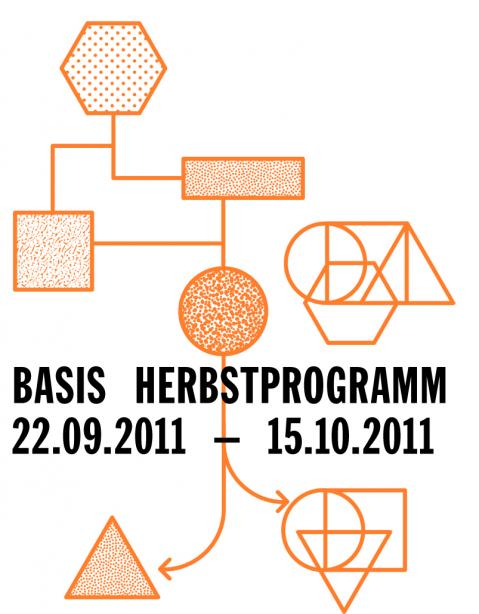 SEPTEMBER 22, 2011 / 7 P.M.
Katharina Jourdan
DESIGN AND PEOPLE –
DESIGN AS A SOCIAL-POLITICAL
FORM OF EXPRESSION
SEPTEMBER 29, 2011 / 7 P.M.
Sebastian Feucht
SUSTAINABLE DESIGN,
HOW WILL OUR PRODUCTS BECOME
FIT FOR THE FUTURE?
---
OCTOBER 6-11, 2011 / 7 P.M.
SALON FRANKFURT
RESEARCH WITH IMAGES:
WHY AND TO WHAT END DO WE
CONDUCT RESEARCH ON DESIGN?)
OCTOBER 6 / 7 P.M.
RITUAL DESIGN. NEW CATHEDRALS OF CAPITALISM
OCTOBER 8 / 7 P.M.
THE CHANGING PRESENTATION OF GOODS. A COMPARATIVE ANALYSIS UNDER THE TERMS OF GLOBALISATION
OCTOBER 11 / 7 P.M.
OSAMA/OBAMA – WHERE IS THE MASS DISTRIBUTION OF IMAGES VIA SOCIAL NETWORKS HEADING?
---
OCTOBER 12, 2011 / 7 P.M.
Michel Müller
CYBERMOHALLA HUB –
A HYBRID CULTURAL INSITUTE
IN DELHI, INDIA
---
OCTOBER 14-15, 2011
FIRST ISSUE: SELF-PUBLISHING
FAIR FOR DESIGN AND ART
YOUNG DESIGNERS, ARTISTS AND AUTHORS PRESENT AND SELL BOOKS AND MAGAZINES, WHICH THEY HAVE DESIGNED AND PRODUCED INDEPENDENTLY
Trade fair and book sale 3-9 p.m.
Bar open from 8 p.m.
Conference 4-8 p.m.
TALKS:
ÅBÄKE / dent- de-Leone
MARCO BALESTEROS & SOFIA GONÇALVES
CHARLOTTE CHEETHAM / Manystuff
ROLAND FRÜH / Werkplaats Typografie
URS LEHNI / Rollo Press
KAI VON RABENAU / mono.kultur
JAN WENZEL / Spector Books
this event on facebook.